TRADITIONAL CRETAN CHEESE PIES BASED ON MYZITHRA CHEESE
INGREDIENTS:
For the dough:
3 cups of flour
1/2 tablespoon of baking powder
A little salt
4 tablespoons of olive oil
2 tablespoons of raki or tsipouro alcoholic drink
3/4 - 1 cup of lukewarm water
For the stuffing:
300 - 400 gr. mizithra or anthotyro cheese
1 egg
1 tablespoon of mint
A little salt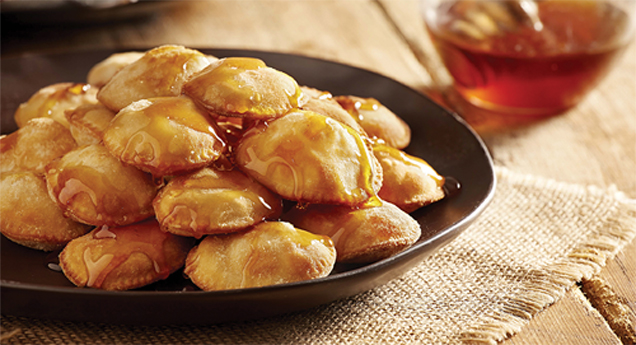 RECIPE EXECUTION:
We mix the flour with the baking powder and the salt, then the raki and the oil. We add the water little by little until it becomes a nice dough and we make a ball. We flour the bowl lightly, we place the ball and we cover with a towel for 30 minutes at room temperature.
In a bowl, we crush the cheese using the fork and we add the mint, the egg and optionally the salt.
We wait for the dough. We flour our bench lightly, we place the dough and with the roller we open the pastry sheet until it becomes almost half a centimeter thick. We take the plate under the coffee cup and we cut with a knife the dough in a circular shape. In each myzithra cheese pie, we put 1 tablespoon of the stuffing. We wet with our finger halfway and we close the pie by making a half moon.
Fry carefully over medium heat for 2 - 3' on each side. Serve hot.
Tip: We can add honey or oregano, nuts and cinnamon.